Pushys Bicycle Warehouse was born on 1st July 2010. It's owned by three business partners from the music industry, Peter Van Oeveren, Shane Wolki and Glen Navratil who took over the long established Onya Bike Fyshwick which was owned by Peter Keast.
Onya Bike was already a large store, located on a prominent street corner in a busy light industrial and bulky goods retail precinct. But before long Pushys was busting for space, building mezzanines and expanding into adjacent space.
Last year they made a serious additional investment to create Pushys Plus, about 50 metres across a car park from the original store which they've also continued.
Unlike the original Pushys Warehouse, which predominantly sells kids, family and entry level bikes, Pushy's Plus goes all the way up to $20,000 dream bikes and the highest levels of P&A.
Bicycling Trade recently visited both of the adjacent Pushys stores, but with a greater emphasis on the new Pushys Plus which is full of innovative ideas.
Pushys Plus opened on 19th August 2015, but some sections are still a work in progress, particularly relating to the workshop setup.
Our host was David Knight, Operations Manager who is also part of the family.
"The whole concept of Pushys Plus was to create a welcoming experience when people come in," David explained.
David then gave a guided tour, pointing out a range of unique features. The comments that accompany each photo are his.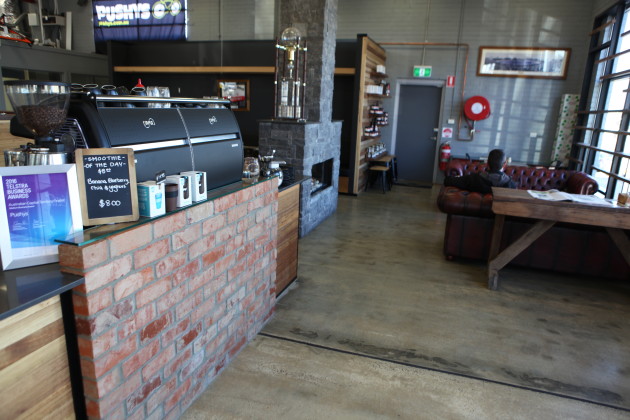 Originally we thought when we were building this place, 'Let's put a little coffee stand in the corner.' But now the café is taking up about a third of the actual bike shop itself.
We've recycled as much of the materials as we could from the refurb of the building. You can see at the front of the coffee machine we used recycled Canberra Bricks. They were made in Canberra until the mid 1970's and they're quite an iconic thing. They're not made any more and are quite sought after if you're renovating an old Canberra house.
The fireplace itself is made out of Italian stone, that falls in with brands like Bianchi with the Italian heritage. Most of the furniture we've got from antique shops and recycled second hand furniture. Everything has a story.  This bench over here is a 1890's shearer's shed bench from Dalton.
Originally we looked at outsourcing the café function but we didn't want to lose the Pushys culture.
We open the coffee shop from 6.30am on weekdays and we have a steady stream of people up until about 9 o'clock, on their way to work. Given that we are in Fyshwick, we get a lot of tradies from 6.30am onwards. There's also a lot of government departments around here and we get office workers up until about 9 o'clock. Then mid-morning, morning tea time it gets very busy and lunch time very busy, tapering off in the afternoon.
We're currently in the process of getting our liquor licence. We're very close.
This is where the magic starts to begin, the coffee shop is great, it's fun, we've got great coffee but the whole idea of Pushys is to create that environment where it's not just about buying the bike but it's about building the bike and coming back for after sales service
We do what's called a 'bike birthing party'. People can buy a bike from us and then they can come to our bar. They can sit around watching our lead mechanic building their bike. While he builds the bike they can have food and beverages and also ask questions. We've done several bike birthing parties with Pivot and Santa Cruz bikes and it's been quite successful.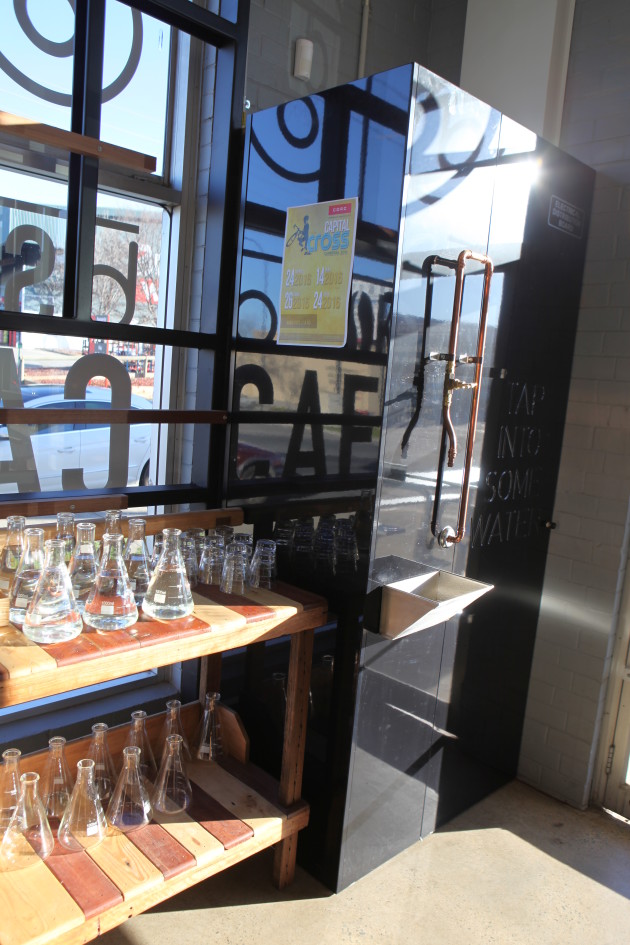 'Tap into some water' says the giant water cooler with its retro style copper piping.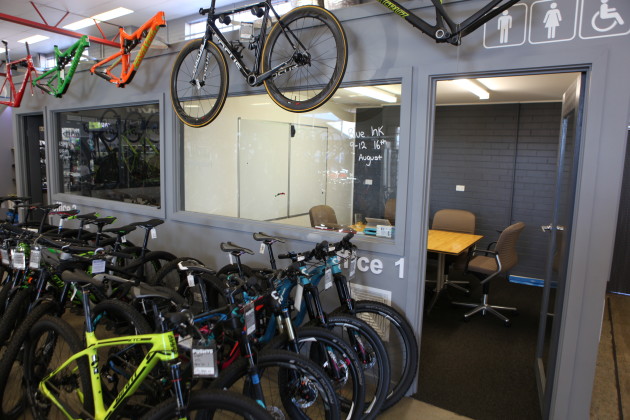 We came up with the idea of turning these offices into customer meeting rooms. Anyone from the local community can come out and use these rooms free of charge.. We've got free wi-fi, we've got our café facilities. The bookings are in chalk on the windows there. Customers can ring up and book these meeting rooms and if they're not booked in advance they can use these at any time.
These are people that are not even into bikes, well not yet anyway! Just businesses around town, they come and use these. Before you know it they're checking out the bikes in the store and then we might be able to get them on a bike.
It's all about reaching out to our local business community.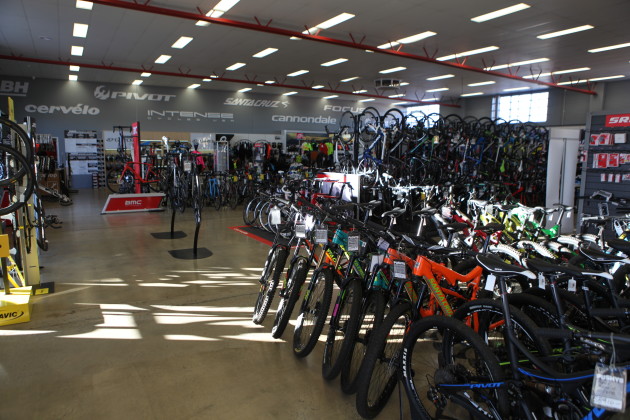 The idea is to create that 'wow' factor. There's Santa Cruz and Pivot bikes around, there's a lot of high end bikes here.
One of the things that is so successful about our business is having the stock available and having a bike available in all sizes ready for people to buy. In our Pushys shop you'll find when you walk on the floor you'll have the majority of every model in every size ready to go. I've got more of those upstairs on our mezzanine already built, plus boxed stock so I can quickly  build one and get it out on the floor.
Our current stock levels in the cold of winter would be between 3.5 to four million dollars.
People don't want to go to a shop and look at a bike then have to order something in. They want to be able to physically touch it, ride it in the car park and say, 'I like this. I want to buy it. I'm taking this bike home now.'
We're going to get really big on our demos now so we're hitting up all our suppliers for demo fleets of bikes. The next step is that people want to take it out and ride it on the road, they want to take it to Mt Stromlo or Majura. They want to see how it goes and then buy it. You don't buy a new car by driving it in the parking lot of the car dealer, you take it out on the road. You drive it and see what it's like and then buy it.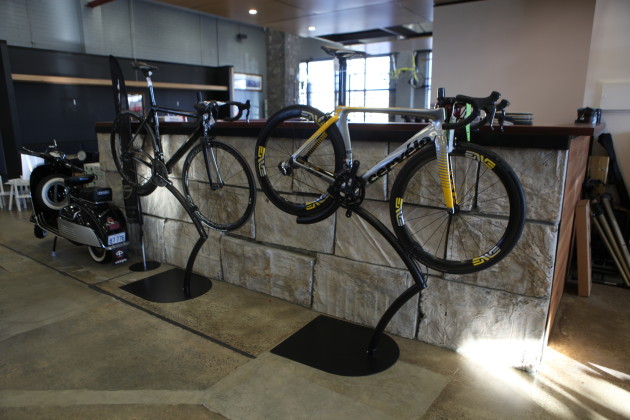 We had these big concrete blocks after we dug a trench for our café and bar plumbing, so our architect suggested that we make this feature wall out of them.
They make a nice backdrop for these limited edition Cervélo and Fondriest bikes.
This outdoor seating area is not yet fully set up, but will be nice and shady on hot Canberra summer days.
These racks are fantastic, we can really use the floor space but not block the line of sight. We did have a lot of other racks. They are fantastic for displaying bikes but you lose a lot of floor area plus you lose your line of sight.
One of our big things is customer service, so we don't want people to walk in off the street and just be ignored. We want to be able to go over and say 'G'day', never a pressure point with the customers. We're just asking, 'How are you going? Do you need a hand? Are you fine browsing? Not a problem at all, just come and see us if you need anything.'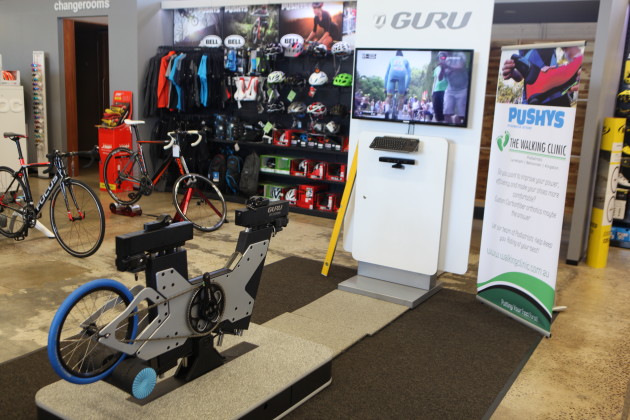 This is our cycle fit station. We're getting Steve Hogg from Pedal Pushers Sydney down soon to do some cycle fitting.
We probably hold more in clothing stock that most bike shops would hold in total.
If you're dropping a fair bit of cash on a nice outfit you don't want to be getting changed in a little dingy change room. Again, it's creating that experience for the customer.
'I'm buying a pair of Assos knicks. Let me go to a really nice changing room where I've got plenty of room, great mirrors and great lighting to try this on.' We've also got a bench outside the change rooms for the partners to sit on so they can be part of the experience.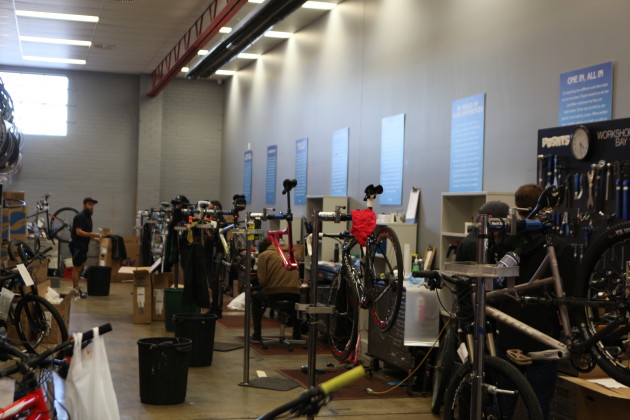 In the last year we've been working out what works in our workshop, what doesn't work, what efficiency gains we can make.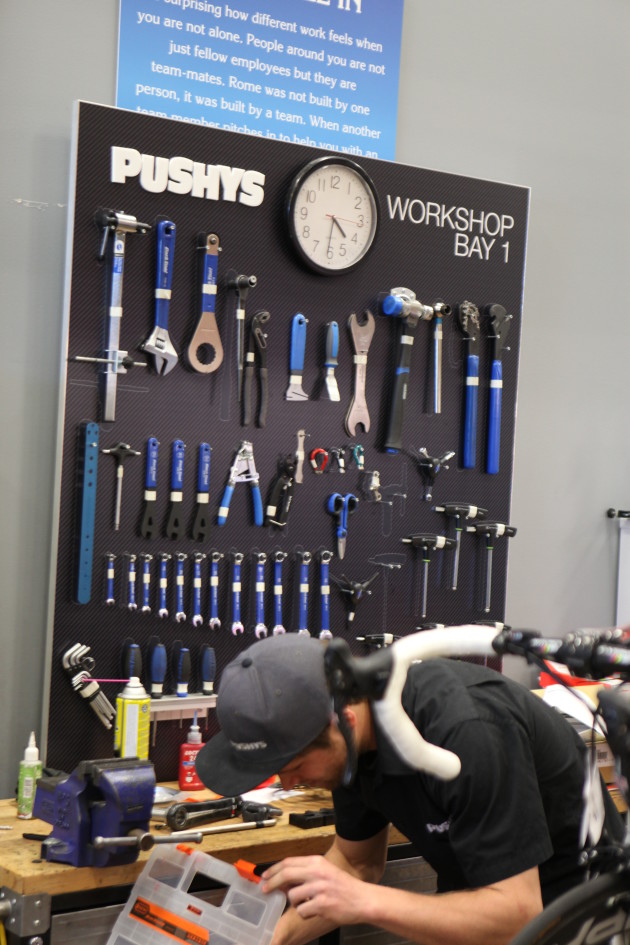 Originally the idea was to keep the workshop very clean and just have a little bench and your tools and drawers. We've actually found it's more efficient to have a tool board.
Our workshop manager and our workshop staff here having been working on prototyping for the last six months on a model where we can make a Pushys tool board that's a one size fits all for mechanics and they've thoroughly tested it.
So what you see here above Will, who is our workshop manager, is our finalised prototype of our tool board. At the moment we're getting one of those made for every single workshop bay, both in Pushys Plus and in Pushys.
No-one has to share tools apart from a few high-end tools that are not used so often.
We're also going to be putting shelving between each workbench to store cable and things like that.
This screen shows which jobs have been allocated to each mechanic, so that everyone can see exactly what's happening. We currently use Tower Sytems, but we currently have to use multiple systems. Our ultimate goal is that every worker will have an iPad. People will get their jobs on the iPad. It will be a paperless system.
The café's completely running in the cloud already. We we want to get the bike shop to the point where it's all cloud based. We have a lot of expertise running the online component through running pushysonline.com.au. One of our pain points is not being integrated with online in the stock levels, so we are looking at an all in one solution that does everything.
Our ultimate goal would be getting to a 24 hour turnaround time on all repairs but at this stage we just haven't matured to that level yet. You need a lot of staff and a lot of parts and it is a challenge.
Our workshop's open from 6.30am in the morning so people on their way to work can drop their bikes in. A lot of public servants in town start at 8am and finish at 5.30pm. They can't get to a bike shop but if they can do it on their way to work and pick it up the next morning it's not a drama.
We're really big on developing our staff. We want the best workshop in the world. A lot of our foundation workshop staff here, who are also owners in the business, have done the Barnett's training in the USA.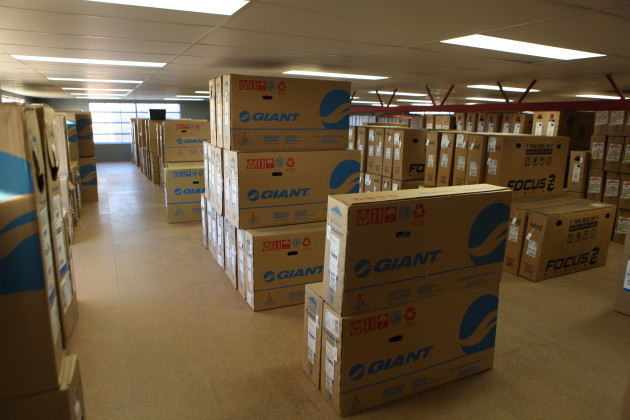 We have backup stock stored on site, both built up and boxed.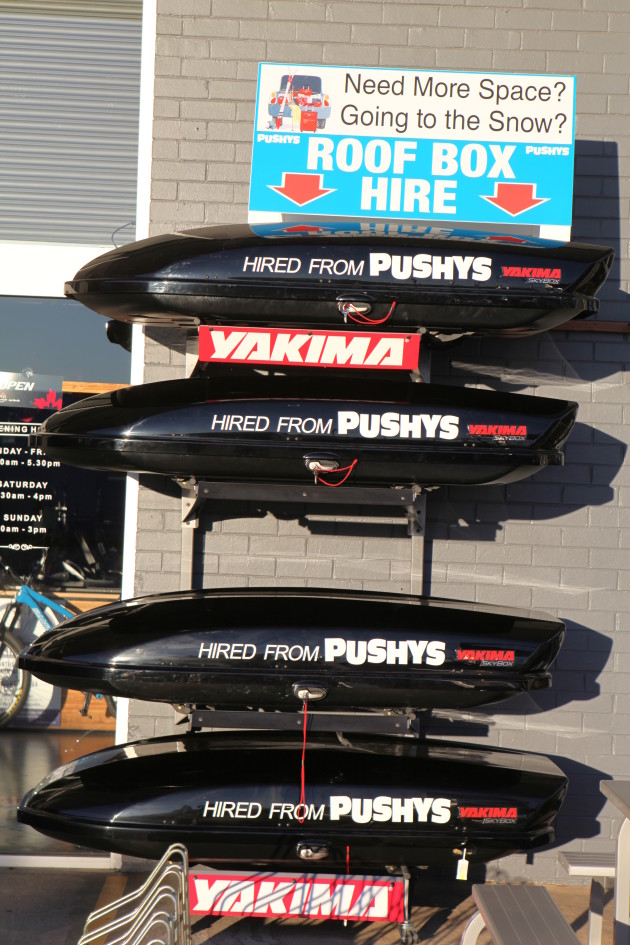 With Canberra being so great for the ski season, plus all the summer holidays and school holidays, we thought, 'Why don't we hire out roof pods?' They're pretty expensive to buy and people don't use them all the time. So for people who don't want to invest in that, let's just offer them a hire service.
It was slow to kick off, but it's now getting out there. We've teamed up with other local businesses like the ski shop. They advertise our roof pods there so it gives their customers extra value.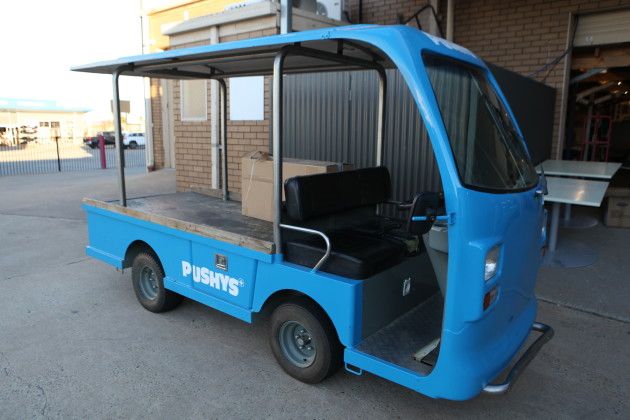 This is Herbie, the electric golf cart. We use Herbie to move stock between the two shops.
David Knight with Spoke the shop dog.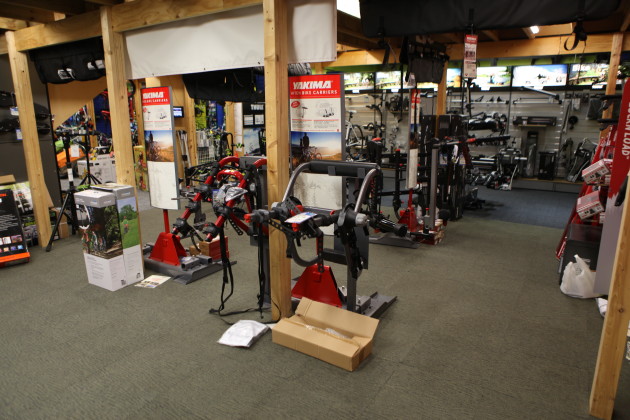 This is our bike rack section. Tony Hardwick who used to be our Yakima rep now works here as our rack section manager.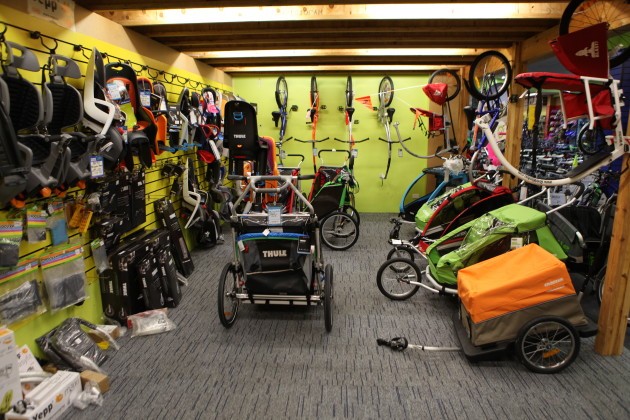 There's parts of the market that so many shops ignore like trailers and child carriers.
We like to have two or three of each kids bikes on the floor ready to go. We've got all the colours, all the brands… it's just giving the customers what they want.
There'd be between 60 and 80 ebikes at any time in the shop, in all the different brands. 
Gazelle, Kalkhoff, Ezee, Focus, BH Emotion.
We've got the diagnostic equipment in the workshop. It's a cultural change for a lot of my mechanics. There was a big fear towards it, but the guys doing that Bosch training that's gone around Australia recently did a really good job of helping our guys understand that it's not a thing to be worried about. A lot of the bike industry say electric bikes are cheating, but it's not cheating at all. It's just a way of enabling a whole new market of people to be able to ride bikes.
We don't have a problem selling them and and it's a market we want to grow.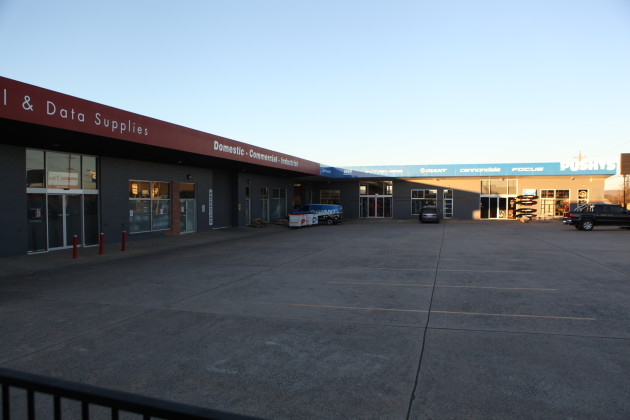 This photo shows the new Pushy's plus across the car park. The original Pushys is directly behind the camera.
I would love one big shop. There are a lot of challenges having two shops. One of the things was separating our workforce into two locations.
We're maintaining some of the same stock in both shops. You don't want a customer to walk to this shop needing a tube and then getting forced to go to the other shop and vice versa.
The plan is that premises next door, which is currently an electrical wholesaler, we definitely want to take that over to expand. It's amazing with this new shop we've already run out of space. In both shops right now we have 2,600 square metres of floor space, including mezzanines for storage.
We have Motorola two way radios so we can tell the staff in the other shop when a customer is walking over for a particular product, so they can have it ready for them.