As every Australian bicycle dealer knows, it's a lot harder to achieve strong margins on P&A sales than it was a decade or more ago. Consumers can often buy the same product cheaper online, sometimes for even less than your wholesale price.
Jason West, is a global Vice President of Chicago based component manufacturer SRAM. He's responsible for after-market sales including distribution and pricing policy and visited Australia just before Christmas to meet dealers and talk about the pricing and distribution policy that he has been gradually rolling out on behalf of SRAM over recent year.
Bicycling Trade took the opportunity to talk with Jason while he was in Melbourne, visiting SRAM's Australian headquarters.
"This is my first trip to Australia, Jason admitted. "It has been really good. I've worked closely with Rob Eva, Dave Evans and some of the other members of the team for a long time.
"I took on a new position in SRAM at the beginning of 2011, Vice President of After Market Sales. It's a global position so I had a lot to learn and a lot of territories to get to. Frankly Europe took a bunch of time but now I'm trying to make sure I get my way around to the other areas of the world.
"There's three main parts to my role.
"Firstly I'm responsible for our global aftermarket sales team. So anything that doesn't go to an OEM (original equipment for manufacture) factory goes through our sales team.
Secondly product responsibility for our Zipp and Quarq sales lines goes through my group. Those are primarily after-market products with a different need to some of the OEM business so those product managers report to me.
Thirdly, all of our after sales service including our Dealer Service Direct (DSD) centres. We have a team here in Australia that handles warranty claims, service needs after the product has been in use. We have a wide spread of DSD's globally and in other places distributors handle it for us."
As well as visiting SRAM staff and their two Australian distributors, Monza Imports Cycling and Echelon Sports, he visited a range of bicycle dealers where he encountered the feedback we're all familiar with about how hard it is for dealers to make decent margins on P&A these days.
"I'm aware of that,' Jason acknowledged. "We're seeing that globally for sure. There's a couple of factors. One is that product lines are more broad. There's more SKU's (stock keeping units). There's more product variation.
"But honestly, retailers know what they have to pay to buy the product, but they're uncertain what they'll be able to sell it for.
"We've spent about the past four years trying to ensure that the retailer can make a fair, reasonable, stable margin. I'm not talking about controlling the price. But if our products are innovative and they're in high demand and they have consistent value, then we can encourage retailers to sell SRAM because it will be good for their business.
"'Geo-blocking' is a term that I've noticed is used in Australia and New Zealand pretty frequently. A number of American companies focus on the USA first and there we have policies such as MAP (minimum advertised price) that is legal there, but not in other parts of the world.
"A lot of the 'disruption' as I'll call it, was coming from European based online retailers who did sales all over the world. So we actually concentrated on setting up our policies in Europe first. Europe has a different set of legal rules than Australia, which are different from the USA, Japan etc.
"We spent a lot of investment going to Europe, speaking to our distributors before restructuring our arrangements with our distributors in Europe about three years ago. We wanted to explain to them what was important for SRAM.
"For example, if we have a distributor in France, we think it's important that they have a website and a B to B (business to business sales system) that operates in France, that they need to have reps on the road in France. But they cannot do business in OEM grey market product. In other words they cannot take factory packaged product without our permission.
Another one of those requirements was that I didn't want them to sell outside of Europe.
After we got those arrangements set up with the distributors in Europe, we then approached the major online retailers in Europe, those that do more than 90% of their business online.
And we said, 'Now, here are the rules we want to have for you.' And one of those rules was, 'If you want to buy from a European distributor, and be in our network as an approved supplier, then you also can only sell in Europe.'
"If that online retailer wants to sell anywhere in the world, I can't stop them. But I can tell the distributor they can't sell to them.
"So that's what's happened," Jason concluded. "It's not an Australian specific policy."
It appears that Jason can back up his comments with evidence. For example if you go onto various European based online retailers such as Wiggle as an Australian consumer and search for SRAM, Zipp or other SRAM owned brands, you will not find them listed for sale.
However a consumer from the UK going to the same site will find them and be able to purchase.
Meanwhile you will find SRAM products on Australian based mail order sites such as Pushy's and others.
"We have detailed relationships with Wiggle, Chain Reaction, Pro Bike Kit, Bike Components, Bike Discount – a number of the major online retailers throughout Europe," Jason continued. "I have a pretty good idea where they source their products.
"SRAM is not against the internet. Consumers want to choose where they buy their products. Some consumers want to buy from the manufacturer. Some want to walk down to their favourite shop where they have a relationship and some want to buy on the internet. I want SRAM products to be available to any of those consumers who want to buy them.
"The rules of doing business in each area are different. For example Australian GST is different from VAT in Europe which is different from sales tax in the USA. I can't change tax policies or currency variations, but I just want it to be an even playing field in each region.
"I'm just trying to segment, so that we do business in each area by local rules.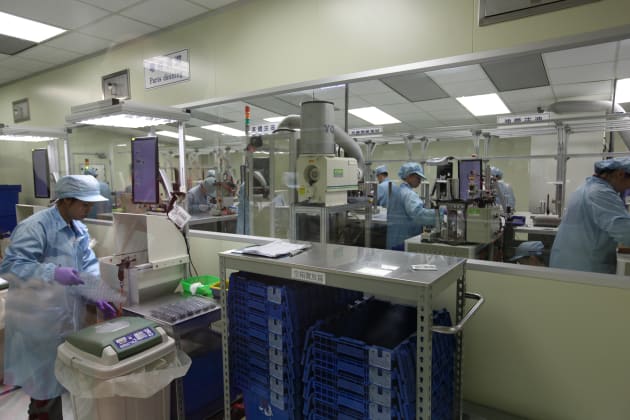 "During my trip I have done some visits to Australian retailers and some of them are aware of our policies, but not all of them.
"I want the retailer to have a successful business and I want them to make more money selling SRAM than selling our competitors' products. And in that case, I'm going to ask them, 'Sell our products. Don't be passive. Don't wait for the customer to come in ask for it and then you order it.'"
So what is a fair margin?
"I think it would be very difficult to run a sustainable bicycle retailer if the street price is below the wholesale price," said Jason.
"In different areas in the world, the sustainable margin is a different number. Also a high dollar product that is not in stock has a different margin to a product that is in stock all the time. If a dealer is going to spend their money and hang it on a hook or put it on a shelf they need to get a return on the cash they put on the shelf as well as supporting the rest of the people, building and business infrastructure.
"But if they're just taking an order and it's a really high dollar item, sometimes they need to make dollars instead of percentage.
"I think retailers are going to have to recalibrate, because it's a different business environment to what it was ten years ago. So I don't have a blanket number (for dealer margins). That's part of what we're going to have to find out together as an industry."
We finished by discussing the overall bicycle market and how SRAM is performing as a business at the moment.
As you might expect from an American who is essentially SRAM's 'salesman in chief' Jason gave a very upbeat reply.
"We have fantastic product momentum right now," Jason said. "SRAM has been addicted to new product and innovation since our inception. That's how we've grown. Right now eTAP is a product in high demand on the road. Eagle in the mountain bike… the NSW line for Zipp, the DZero line for Quarq is doing really well.
"We're not perfect. But those products, combined with some of this sales channel message, means that our sales are up, and in a down market. We're pleased, but we're not satisfied."
Jason was not prepared to divulge any sales figures or rate of growth.
"We won't give a percentage," he said, "but let's just say that business at SRAM is healthy.
"We're not high on the hog, we're not living large, but we're recovering from what has been a very tough 12 to 18 months in the bicycle industry.
"Most of our products are made in our own factories. We have invested in short lead times and 'made to order'. A lot of the bike industry builds to a forecast or in a big chunk of product, hoping that it's the right amount. Then when they build too much, we end up with this heavy inventory and a lot of discounting. When they build too little you end up with unmet demand and long lead times.
"It's a lot more expensive for us to run factories with short lead times and to only build what a customer has ordered. But it leads to fewer pockets of inventory in the chain, it leads to less stock outages and it adds to the consistent value of the product. If you have the right amount out there there's a lot less uncertainty.
"Sometimes we'll make an order of just one product. It's hard to run a factory that way and we need to make sure it's worth it, but it does help with the value of the product, especially in after-market."