With around 60 staff and 65,000 bicycles sold last financial year across 15 countries, Melbourne based Reid Cycles has come a long way from a start-up in a suburban garage just eight years ago. Bicycling Trade interviewed Marketing Manager David Hannay to learn of their many new developments. 
Bicycling Trade: How did your business start? 
David Hannay: Reid Cycles began in a Melbourne garage in 2009, selling affordable bikes online direct-to-market. We'd ship boxed bikes or sell built ones from James Reid's garage. On weekends there would be a queue of people waiting to test ride on the street out front. 
BT: You've now got six stores, two in Melbourne, plus Sydney, Brisbane, Adelaide and Perth. Do you have plans for any more? 
DH: No. The Australian retail market is quite tough at the moment so we're not looking to expand in the immediate future. Our attention is currently on product development, improving all of our processes around that and growing internationally. That's where we're really seeing the benefits of some plans we put in place a couple of years ago.
That's where we're seeing our growth. So we want to consolidate in Australia, but grow internationally. 
BT: What are the main countries that you're in? 
DH: We're in 15 countries now on four continents. Our biggest market is the USA where we're in with Hans Johnsen, Downeast Bicycles, Wilson Bicycle Sales and Olympic Supply Co. They've got access to about 1,500 retailers. We sell bikes through them and that's going quite well.
When it comes to developing new bikes, we first speak to our bigger distributors around the world and ask, 'Would you be interested in this? What are the movements in your market?'
If it's worth developing a product that we think is going to play well over there and also suits the trends that are emerging here, then it gets a green light.
We're not just looking at Australia any more.
UK is showing promise and we're working with 2x2 Distribution there. That's where our international office is based and it's run by Rob Akam who was our General Manager here in Australia for a few years but also brings experience in the UK bicycle market.
In Europe, Spain would be our strongest market. We've got a really proactive distributor there. In the other countries we're still finding our feet. 
BT: Are you marketing Reid internationally as an Australian brand? 
DH: Yes we are. We shoot all our lifestyle photography here in Australia and use that material on all of our materials overseas. Obviously we match the seasons to whatever is happening over there, but we don't hide the fact that we're an Australian brand.
Overseas we're not perceived as a budget brand. Because we sell through distributors, there's margins involved. So we're often a little bit cheaper than some of the bigger brands, but walk into a local bike shop overseas and Reid is selling next door to a Giant. 
BT: Your bikes are actually more expensive overseas compared to Australia? 
DH: Definitely. 
BT: So will you put your prices up in Australia? 
DH: No, certainly not in the current environment. That's where we've come from. That's what our brand means in Australia. We're able to meet those prices because we've structured our business around being lean, bringing the product in direct and selling through our own stores.
We're geared for volume, so in Australia we're not looking to change that perception.
We find it amusing that the biggest of our critics often end up copying what we're doing – from our product to our approach to marketing.
Yes, we sell a lot of entry level bikes to people who just want to get around. But we stand by our claim that these affordable bikes are the best quality you will find at that price – and this remains true across our entire range all the way up to the Vantage Comp carbon bike and our new Shimano STEPS ebike. 
BT: How many of your customers only buy online and get home delivery? How many buy through your stores? 
DH: Online is strong, even in states where we have a store. Click and collect is emerging as something that people are getting a lot more comfortable with.
We have fewer customers who will walk into a store and casually browse and then come back and buy a bike. It's more a case that someone will come into a store knowing exactly what they want because they've already done their research, or they've already placed an order for click and collect.
So we're getting fewer walk-ins, but those that do come in, their conversion rate is higher because they know what they want or they've already ordered it.
Our customer groups: students, younger people, professionals, inner city types – they're all very busy. They don't visit stores on the off chance that they might have what they want.
They do their research, make sure it's in stock and come in to buy. 
BT: When we did a story about Reid some time ago, you were considering wholesaling to Australian bicycle shops, possibly in some regional areas where you didn't have a store of your own… 
DH: We put that on hold. We're going to keep the Reid brand through our own channels. Internationally we're now making bikes for some other brands as well, because we've got our processes down and we've got very good contacts in component and frame factories.
We can put together bikes in China, Cambodia, Taiwan - we're also speaking with one in Europe as well now, so we've got lots of places where we can build bikes for markets.
Our customers are domestic brands with distribution in various markets, not stand-alone bike shops. We can design to a price, so people are starting to use us for that capability.
Our SAI (Standards Australia International) Global 'Five Tick' product safety certification was the first big step for us toward controlling quality assurance, but we've now gone even further with Reid staff on the ground in Taiwan to manage our production, and James Reid spending two months of every year visiting the factories and strengthening ties . This has all resulted in improved margins, reduced lead times, improved quality and an ability to be more responsive to the rapid changes that happen in the market. 
BT: It looks like you've now got 80 different bike models and variants including scooters, folding bikes, ebikes, kids bikes – so you're really broadening your scope of bikes. 
DH: Yes. That was a conscious decision. We do our research and do our best to produce bikes that people will want. But we tend to produce a lot of bikes and let the people decide. The ones that are good, we'll continue. The ones that aren't, don't.
We have come a long way from simply white-labelling factory bikes. When Reid develop a new range of bikes now, we involve Australian specialists in the category at the planning and design stages to work with our core in-house development team. We then have two skilled and experienced engineers based in Taiwan to personally manage the day-to-day business of bringing these bikes to fruition. This responsiveness is especially important when developing bikes in emerging niche categories like CX, All-Road, 27+ MTB and our new eBikes where innovation is moving so fast. 
BT: You were doing Corratec ebikes last year, but they're not on your site anymore. Instead you're doing a Reid ebike? 
DH: We've already had the Shimano STEPS Reid bike in, but it sold out. It was quite popular. We're bringing in a step-through version of that frame in January and the bikes that you can see on the site will be back in January too.
The Corratec bikes were very good, but we did our research. We were able to get a relationship with Shimano to get their system and we thought we'd do our own brand and bring it in at a much better price for a decent product.
Thanks to our experience selling Corratec we now have staff familiarised with the category. We now know how to sell an ebike and how to bring one in. Now that we've got our own, we're just waiting for the market to show some promise. 
BT: You've also got a new Vantage Comp full carbon road bike with Shimano 105 and hydraulic disc brakes for $1,699. Is that the highest you've ever been in terms of spec and price point? 
DH: Yes it is. We've also got a full suspension 27 plus MTB coming in. It's still going through final testing but we're hoping to have that out early to mid next year. That will be in the low $2,000's. 
BT: How are you going with these higher price point models? 
DH: There's a few teething issues with bikes like this. You don't want to order heavy. We'll order in a few and they'll sell out real quick if they're popular, but there's quite a lead time to get those bikes together again and get them here, by which time you've got to re-launch them. So there's a lot of work to get a name in these categories and we're going softly softly.
We don't want to overextend and get a lot of bikes that don't sell.
But so far, the higher end bikes we've got in this year… the gravel grinder Granite 2 ($899) that sold really well. There's more of those coming.
The Vantage Comp carbon went ok – they're very brand conscious in the road category. It's going to be a hard nut to crack.
Our Vice range of 27 plus hard tails, our suspension model of that sold very well (Vice 3.0 for $1,399),  so we'll continue with that line for sure.
So as we creep up over the $1,000 mark in these tough, competitive categories, we're getting some interest in these niche type bikes.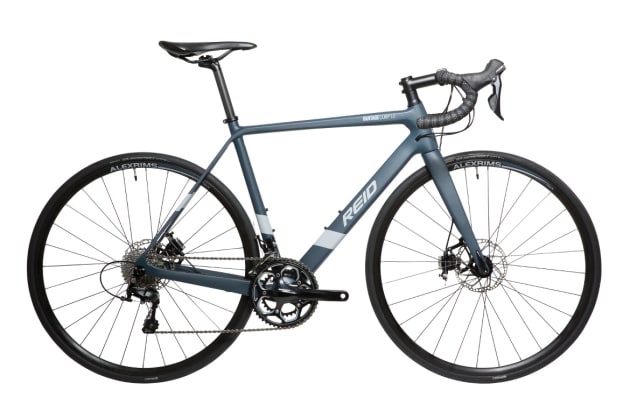 BT: There's a lot more Reid branded P&A, clothing and helmets than there used to be. Back when you only had your first single shopfront in Melbourne there was the absolute bare minimum. You really weren't interested in P&A at all. 
DH: P&A is tough. Clothing is especially tough. It's much better if we can import a product that we think is going to be desirable for our market and get it at a good price under the Reid brand. 
BT: What's your best selling P&A category? 
DH: Reid helmets, for sure. They're Australian certified, they're in-mould, they're comfortable, they've got dial fit, they've got everything you need, but they're a lot cheaper. ($39.99 - $59.99) 
BT: How many staff do you have now? 
DH: It fluctuates around Christmas holidays but we've got three staff in the UK, two in Taiwan, 15 in Head Office in Melbourne, maybe four in the warehouse and three or four full timers in each store location, then casual staff, so that's about sixty or so in total. 
BT: That would make you one of the biggest bike companies in Australia. 
DH: Yes, well, we sell quite a few bikes. 
BT: You wouldn't care to share that number by any chance? 
DH: In the last financial year we sold 65,000 bikes globally. I would not like to break the Australian figure out of that. 
BT: We previously ran a story about how you opened two nearby stores to your main store in North Melbourne because you were worried that the site was going to be demolished for redevelopment. Is that still on the cards? 
DH: That North Melbourne location is our flagship store. That's where we started and still do the most business. It's such a great spot, right across from the Queen Victoria Markets, very visible. To lose it, we thought would be a risk to the business.
They were going to put apartments on it, but I think the developers are going to sit on it.
We watched it for a bit, but then we got a guarantee that we could keep the store for quite a bit longer so we closed the other two in Collingwood and Windsor.
It's the way retail works these days. Non-performing stores don't get very long. You open up, test it out, see where it's drawing customers and either back it or not. 
BT: Are vintage ladies step through bikes still your best sellers? 
DH: The vintage category is certainly where we came from, but it's ultra-competitive now and I think the trend is starting to fade a little bit.
Amart Sports are doing them with a basket for $139. (Editor's note: Verified, with Shimano six speed derailleur, rear rack, front basket, alloy rims, V brakes and the option of interest free credit via four $35 instalment payments if you can't afford the huge up front outlay…) And you go on eBay and there's no shortage of people doing them for $170 - $180.
Our cheapest ladies' seven speed vintage for $249, that's now mid-tier! We do an internal hub gear in the deluxe but we don't do a single speed any more. There's no money in pitching to the bottom end any more.
We saw that coming. We still put effort into the ladies vintage category, because that's what we're known for, but that's why we pushed hard into developing other products, especially the urban commuter bikes.
We knew that we were heavily dependent on the ladies vintage category and it's a trend product and easy to copy. So we saw the writing on the wall about two years ago and thankfully we did something about it.