Pinarello has joined the ranks of bike brands now offering a power assisted dropbar road bike. Their Nytro model inspired by the Dogma F10, weighs in at 13kg with battery intact, and has disc brakes and thru-axles.
The Nytro joins several other significant brands offering conventionally styled racers with dropbars and electric assistance....Giant, Bianchi, Haibike, Merida, Cube and others.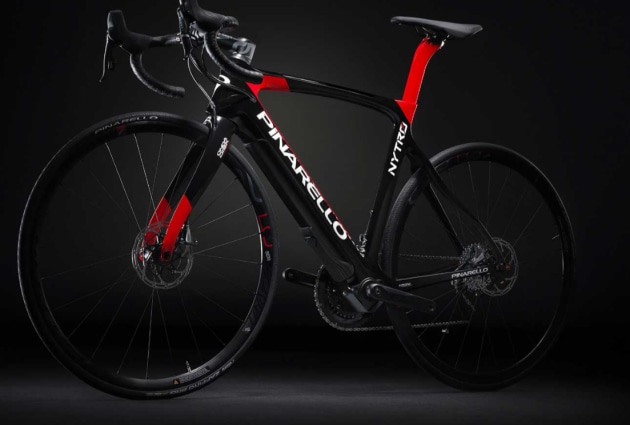 Their marketing campaign however failed to meet market expectations, implying that women need help to keep up with men on the bike.
 Needless to say social media melted down.
But they (like the broader bike industry) are not alone in continuing with these outdated  sexist promotions. For example The E3 Harelbike event in Flanders 2013, or Colnago's 2015 ad for their C60 to name just a couple from the tacky masses that go way back. 
Assos clothing is one brand that has stepped up and changed the way they promote their womens clothing without the impetus of massive social media intervention. CEO of Assos Phil Duff (who was new to the role at the time and aware of the history of his newly acquired brand) explained to Cyclingtips in a 2016 interview. "Whether I wanted to or not, I have gotten way more sensitive to the issues that women have to deal with in the real world whether that is in the workplace or societally and, in the case of Assos, in terms of being on the bike," explained Duff. "It's something that both from a brand perception and from a pure product standpoint, we are right in the midst of addressing." When asked what that's going to look like, Duff explained that they're using real riders and professional riders wearing Assos products in a more realistic setting.
Pinarello has pulled the recent ad apologising for the blunder.