Each issue we're presenting a Bell Award to honour unsung heroes of our bicycle industry.
Bell Awards recipients must excel at any one or more of six selection criteria:
1. Consistently giving outstanding customer service
2. Producing outstanding products or services
3. Team player
4. Innovation
5. Community service
6. Overcoming challenges
Apart from the kudos of having a page devoted to them in Bicycling Trade, each Bell Award winner receives a framed certificate. Over time we'll be building an honour roll of all past winners on the Bicycling Trade website along with an article about them.
Today's Bell Award winner is Luke Bagley who is the store manager at Cycle Fitness Nutrition on Scott St Newcastle, which is owned by Glen Stojanow.
When word about the Bell Awards got out onto a local cycling Facebook page, several of Luke's customers – Steven Davies, Laura Renshaw, Kurt Purkiss and Andrew Bramble – sent in very carefully considered nominations. Because they were quite lengthy we can't include all their comments, but the following selection is representative.
If you read them I'm sure you'll agree that Luke well deserves to be our second Bell Award winner. It's people like this who help grow the Australian bicycle industry in the best possible way, by sharing their love and knowledge of all things cycling and getting their customers more actively involved.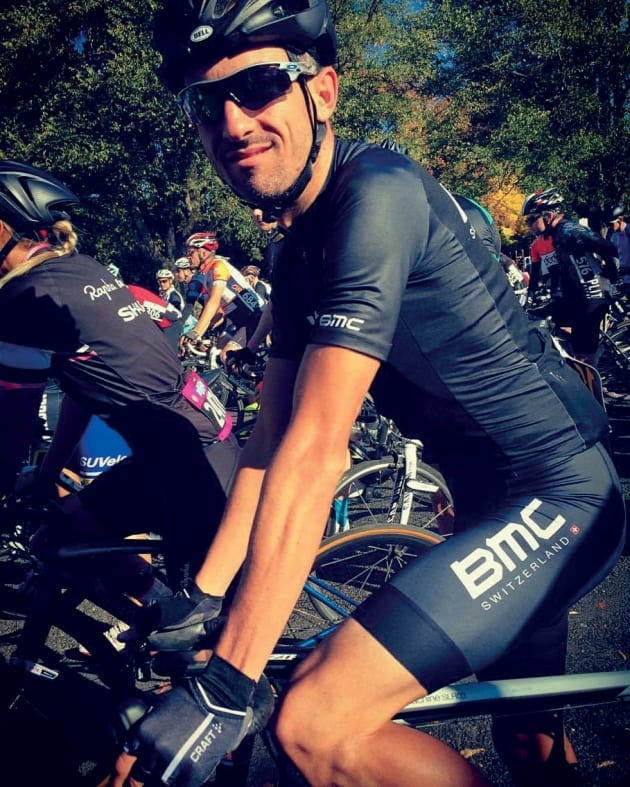 Consistently giving outstanding customer service
Laura said, "Luke has been my mechanic for two years now. He's built two of my high end road bikes and also helped with the sale of my old bikes.
"He goes above and beyond in his service and building of bikes with precision. Customers have come to know the shop for Luke's hard work and he always provides what is needed, whether it's a last minute out of hours urgent repair or a simple fix in shop."
Kurt said, "The day of a race when I had snapped two spokes on my race wheels, Luke dropped everything he was doing to help get my bike fixed in time to get to racing on time. I found out later that evening that Luke wasn't even working that day, but was in the shop working on his own bike!"
Andrew said, "From entering the store until today Luke has helped me become a better cyclist and through his outstanding service and willingness to help. He's fixed my bike and products at the last minute with no complaints and a smile on his face.
"This kind of service and product knowledge has helped me grow to love the sport of cycling and appreciate the friendships that can be formed through this common appreciation of the sport."
Producing outstanding products or services
Kurt said, "Luke has never allowed me to buy a bike simply because I liked it. He has always made sure it was actually what I needed.
"Luke actively made sure the bike I purchased was of exceptional quality for money. We tried several saddles to ensure comfort and switched my stems twice (at no cost) to make sure I was snug on my ride."
Team Player
Kurt said, "Luke has taught me and many others how to race. He runs a Saturday morning ride where he teaches races tactics and helps hone riding technique."
Andrew said, "Luke helps to organise cycling events including weekly rides and sponsoring of local club events, helping to bring like-minded people together and form friendships through cycling."
Innovation
Andrew said, "Luke's custom designs of the local shop kit have been widely appreciated and become something that all customers are proud to wear."
Steven said, "Luke is constantly updating the display in the shop to keep it looking fresh and new. He also gets online and makes sure new product information is getting out there on social media."
Community Service
Kurt said, "At no cost Luke has coached several young triathletes and taken the time to help them understand the business of gaining sponsorship.
Steven said, "Luke is a strong and supportive member of Kooragang Open Cycle Club. I am vice-president of the club and can attest to Luke's involvement with social media on the club's behalf as well as helping club juniors with development."