dvance Traders has a history going back over 100 years. For most of that time it was a small Queensland regional distributor. I remember first visiting the company perhaps 20 years ago and stepping back into a 1950s style warehouse and culture.
Things changed when the wealthy Muller family, who had major interests in the automotive and tourism industries, bought the company about 15 years ago. But that was just a prelude to the transformation that has followed since Graham Turner and his Flight Centre's Pedal Group bought the business. This was around late 2008 and the business was otherwise going to be wound up.
Very soon after the purchase, Andrew Garnsworthy was put in charge. He's still in the same role, through several changes of premises, most recently to a distinctly corporate looking multi-story office building, half a block from the Brisbane River on the western fringe of Brisbane's city centre.
There Andrew answered my questions with the care and precision of true accountant.
His background confirms why. Before heading up Advance Traders, Andrew worked for the parent company, Flight Centre, as the Chief Financial Officer for their Queensland business. Previously he'd worked overseas with an investment banking firm and prior to that with the global accountants, Price Waterhouse Coopers. Andrew has both a commerce degree and chartered accountant qualifications.
When the Pedal Group took over Advance Traders was doing about five to six million dollars per year in sales. Under Andrew's tenure Advance Traders has grown seven fold.
Contrary to some outsiders' perceptions that it's simply the wholesale arm of their sister company the retail chain 99 Bikes, only 35% of Advance Traders sales are to 99 Bikes stores. The remaining 65% are spread across 22 Bicycle Centre franchise stores and several hundred independent retailers.
Bicycling Trade: When I last interviewed you two and a half years ago, you had 11 brands. Now you have 23 excluding Colony BMX that you're just about to add. What's your strategy in taking on new brands?
Andrew Garnsworthy: Our strategy is to have a strong multi brand offering for dealers so their customers have a choice.
We have discontinued Free Agent BMX, Adams Trailer Bikes and Northwave clothing and apparel. They're three brands still up on our website, (subsequently removed) so the increase in brands hasn't quite been as high as you flagged.
Our strategy is to have fewer parts and accessories brands (each) doing more significant volume, rather than continuing to build up a very large portfolio of parts and accessories brands. Some brands just don't fit, in terms of being able to hit required threshold levels to make them viable as a brand and we'd prefer to focus on other brands or other areas of the business.
Our strategy is also to not get into very technical product. We don't want to be involved in servicing forks or building wheels or anything like that.
We want to stick with the main categories that customers buy; add-on sales when they buy a bike. Hence Magnum locks and Endura clothing. They've been the two main accessory brands that we've added in the past two and a half years.
We've added a baby seat brand Bobike and Polisport which is listed as two brands but effectively it's the same company.
We're setting up a new BMX specialist division within our business. From 1st July 2016 we've added the distribution of Colony and Academy BMX. Clint Millar, the founder of those brands and his team will come across to Advance Traders.
We'll have a specialist sales product and marketing team led by Clint Millar who is new to our business as well as Corey Stafford who's helped drive our BMX business over the last six or seven years.
BT: Some bike shops have struggled to sell clothing. How are you finding the clothing market?
AG: That was part of our reason to focus on one clothing brand rather than two, in terms of Endura over Northwave. Endura's shorter lead times, flexible supply arrangements and well received product at good prices have been well received by our sales team and customer base.
We now have stronger expertise to be able to support and grow clothing as a line. Rob Hurley, who was previously involved with Shimano from a Pearl Izumi perspective, is now part of our team.
We're not expecting two or three million dollars in clothing sales from day one, but our dealers who want to sell clothing now have access to a competitive option from a brand with a global reputation.
BT: What sort of gross margin can you offer dealers on clothing?
AG: We're between 50 to 60% gross margin.
BT: What's happening with your bicycle range?
AG: The dominant brands in our portfolio, excluding BMX, have been Merida and Norco. They're brands that have steadily grown, for Merida over the last seven or eight years and for Norco the last four or five years. They've complementary brands for shops.
From 1st September 2015 we added the distribution of BMC. That was strategically driven by a number of factors. One was having a premium offering in our portfolio, also adding new customers, ultimately.
Instantly our dealer network for BMC went from nothing to 40 shops by the introduction of the 2016 range. It fits into our strategy of growing a multi-channel business with focus across independent dealers, Bicycle Centres and 99 Bikes.
BMC is an independent-only brand, plus selected Bicycle Centres that can sell premium products.
Our own brand Indi, we've adjusted tack a bit on that. The original goal was to have a price pointed option that sits below Merida and Norco. We found that quite competitive and the company we worked with didn't really hit the mark in terms of product look and feel and price points. So we moved away from general cheaper adult bikes. We've diverted focus to a price pointed kids' offering.
We're also sticking with the one part of the Indi adult range that has worked well, ladies vintage retro style with some good colours.
With Lapierre we've significantly narrowed the range and the offering. The two parts of Lapierre that have worked have been carbon road bikes from between $4,000 to $7,000 retail and trail bikes between $5,000 to $7,000. We've also tightened the number of Lapierre dealers.
BT: I counted 24 staff and reps listed on your website including about 16 head office staff, so you've certainly been busy hiring since I last interviewed you!
AG: Yes we have. We've particularly upstaffed over the last six to eight months. We've increased our teams in sales, product and marketing. There's an extra two people in our marketing team, there's an extra one and a half people in our after sales warranty team and we also have an extra one and a half in our standard product team of product managers.
With the growth in brands and the overall business growth from two and a half years ago we've invested in growing our team to effectively set us up for the next few years ahead.
BT: I don't see a 'Buy it Now!' button on your Merida Australia website. Other brands are rapidly heading this way. Will there be a 'click and collect' system soon?
AG: One of our technology projects is to review the feasibility of setting up a 'click and collect' program, working with our dealers, but it's not that high on our priority list.
We're focused on having continuity of the right bikes so shops don't miss sales, having even more competitive product at the right prices, being a flexible and easy to deal with wholesaler and having strong marketing across our brands.
From a technology perspective, we are investing in our own business to business web store. About 30% of our orders now come through that online portal that flows direct to our warehouse, so we're investing in that to make it easier and more flexible from the search functionality.
We've just added a 'fit and sizing' system so that our dealers can provide their customers an improved customer experience.
BT: I looked up Pedal Group financials. While I could see some comment about 99 Bikes, why couldn't I see any comment specifically about Advance Traders in the last year?
AG: The parent company of Advance Traders is Pedal Group which is part owned by Flight Centre and part owned by Gainsdale Pty Ltd (a private company of the Turner family of which Graham Turner is also CEO and a cofounding part owner of Flight Centre), so as a result Pedal Group results are reported under Flight Centre's annual report.
BT: I saw in the Flight Centre presentation to 31st December 2015 It had break out figures for 99 Bikes but nothing for Advance Traders. The 99 Bikes figures showed was a 20% sales growth to $37.2 million and a 41% EBIT (earnings before interest and tax) growth to $2.4 million.
What are the latest figures for Advance Traders?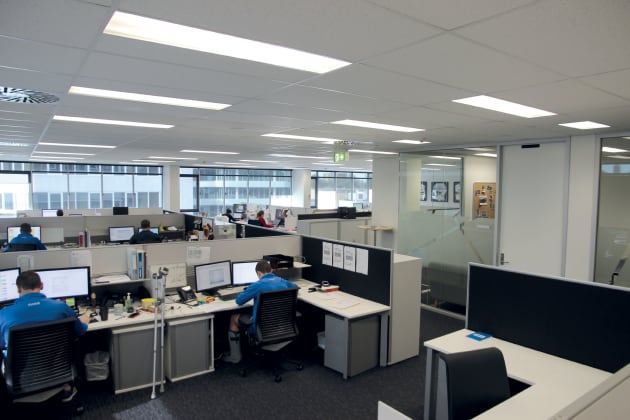 AG: The mix of the profitability across both businesses is fairly similar. Our turnover for Advance Traders will finish at approximately $36 million dollars for the year ended 30th June 2016.
I think for the year ended 30th June 2015, 99 Bikes had a slightly higher share of Pedal Group profit but for the year ending 30th June 2016 Advance Traders will have a slightly higher share of Pedal Group profit.
From an Advance Traders perspective, for this financial year ending 30th June 2016 our sales will be up about 20%, our gross profit will be up about 25% and our underlying bottom line profit will be up by about 100%.
Our bottom line net profit percentage has been fairly consistent over the last few years and that's ranged between 3% to 4%.
BT: You run a pretty lean ship. That's 96 cents of work you have to do to get four cents of profit.
AG: We've seen a wholesale margin compression over the last seven or eight years. We needed to do that to maintain a strong price pointed product offering for customers in a competitive world. So if anything we see margins will continue to compress and we need to figure out ways of adjusting to that environment.
We've had a good year, by having a strong team on board. We've learnt fairly quickly over the last seven or eight years around what works and what doesn't work. We try to manage the business by getting our ordering right, by managing our stock fairly well and learning about how to keep control of our debtors.
About 12 months ago we were considering setting up our own warehousing and we went through a very extensive feasibility exercise around that. Ultimately we realised that through having a split warehousing distribution structure, which was designed to provide bikes and parts and accessories quicker, it actually led to more split orders and higher freights costs for us and for customers. So we decided against setting up our own warehousing in favour of a fully outsourced model with bikes and parts and accessories centralised in Melbourne.
It just allows us to focus on running the business and providing a strong service for our customers.
One of the benefits for our customers of doing that will be through providing a multi-buy discounted freight rate, which we'll be launching in 2017, to pass on some of the savings of our new centralised model.
Instead of a flat freight rate for every bike, customers that buy multiples of 2, 3, 4, 5, 10, 20, 50 or 100 bikes will receive a lower freight rate per bike.
BT: How's your Bicycle Centre program going?
AG: For certain shops it has worked really well. For certain other shops, it hasn't worked well. They've typically been shops that have overlaid our Bicycle Centre model onto a fairly weak overall starting business model.
In the first few years of that program there were a couple of Bicycle Centre shops that closed from not being able to pay their bills and not being able to run a profitable business.
We've been more targeted to work with shops that ultimately have got stronger underlying business fundamentals, rather than thinking that overlaying the Bicycle Centre model with a weak underlying business model will be a silver bullet to turn the business around.
Other factors at a retail level around location, staff, rent and marketing are ultimately fairly important factors that the Bicycle Centre model doesn't directly influence.
We've paused to make sure that the Bicycle Centre model is strong and we're partnering with the right shops before we expand it further. Overall our Bicycle Centre sales this year are up about 30%, so a bit stronger than our overall business growth. In the shops that it's working for, it's working well.
BT: How many Bicycle Centre shops do you have now?
AG: About 22 shops right now.
BT: Excluding 99 Bikes and Bicycle Centres how many independent dealers do you have?
AG: About 400, but some of those shops are fairly small accounts, so about 200 really active accounts.
BT: How are your dealers going? How promptly are they paying their bills compared to when I met you 2 ½ years ago?
AG: Even with the sales growth, the total (accounts receivable) number has come down since we met two and a half years ago. Part of that has been through reduced floor plan credit terms. We found through having some very long credit terms two to three years ago that it wasn't actually a very positive thing for us or for our customers.
BT: What terms were you offering at its peak?
AG: We were offering between 270 days and 12 months credit terms.
BT: Goodness that's a long time!
AG: It is. Our floor plan credit terms for 2016, and we'll be consistent for 2017, have been adjusted to 120 days. Our standard terms are 30 days from end of month. Our debt has come down. The shops that have been struggling, we've adjusted our supply arrangements. If shops have got overdue balances, we're looking for payment plans to continue supply. We're a bit more black and white around that. We've been more selective about who we deal with.
BT: What trends have you seen since we last spoke in terms of categories of bikes that have grown or declined?
AG: We're seeing pretty good growth in flat bar road bikes, hybrid bikes, entry level hard tails and dual suspension bikes.
We're seeing that road, especially in the mid to high end, has dropped off a little bit. However in the $1,500 to $2,500 retail area, road has actually been a fairly strong category for us across our brands.
In BMX for us the split has roughly been 50/50 race to freestyle. We probably over represent on a race perspective compared to the market.
With the distribution of Colony and Academy from the 1st July that mix will change quite significantly, probably closer to 70% park trail or freestyle and 30% race.
BT: The latest bicycle import figures that we published show that imports are flat. If you take into account population growth, it's actually declining per capita. Why do you think this is and what do you think can or should be done about it?
AG: I think there's been a lot of stock in the market across a lot of brands and that has started to catch up.
I feel that the investment in infrastructure is a key. Making it more accessible for people to ride, both commuter and recreational.
I also think that the introduction of some sort of ride to work tax incentive scheme, that is available through the UK for example, would actively encourage more people to get on bikes and is a great concept.
With the growth of electric bikes my understanding is that there's a process started in Australia where there are potentially some concessions for companies that help people get on a bike through a salary sacrifice arrangement, but I think it needs a stronger push.
The other one is the obvious around the GST on imports to create a fairer platform for retailers. This will keep some strength and profitability in the market.
I think there'll be more consolidation of wholesalers and possibly even retailers.
BT: You just mentioned ebikes. Are you doing anything in that space?
AG: Yes we are. We are heavily backing our partnership with Merida. Merida has built a specific factory for ebikes for Merida and another brand globally. About 60% of Merida Germany's research and development and product team is focused on the growth of ebikes. So there's a heavy push to have a strong ebike offering.
Advance Traders is a pilot wholesaler with Shimano STEPS and that's gone very well. We will also offer Bosch equipped Merida branded commuter and MTB ebikes for 2017.
BT: Are you still glad you made the move from Flight Centre into bicycles seven years ago?
AG: My switch to Advance Traders in 2008 was great to broaden my exposure to a very fast growing small business in an industry that has very passionate people. We've built a great team.