BICYCLING TRADE: When did you join the Accell Group?
RENÉ Takens: I was the CEO from the moment the Accell Group started from 1st October 1998.
BT: What attracted you to the bike industry?
RT: I was very enthusiastic about the story and the product, the market and the future strategy.
BT: Can you describe the size and activities of the group when you started?
RT: We worked at that moment with a total staff of 1,000. Now we have 3,000. I think we had a turnover of around 150 million euros (A$217 million) and now we are around one billion (A$1.45 billion). I think at that moment we manufactured maybe 700,000 bicycles and nowadays we are around two million bicycles.
BT: So you've seen huge growth. What do you think are the key factors for that success?
RT: Both from autonomous growth and acquisitions. We did a lot of acquisitions.
I think we have an average in the last 15 years of around 7% per year autonomous growth (organic growth within existing operations). That is already a lot. Next to that we did acquisitions, bigger ones and smaller ones and that together made the Accell Group where we are today. We always gave a lot of attention to good financial results as well, as we are a listed company. (Accell is traded on the Euronext Amsterdam stock exchange.)
We always try to be in the parts of the market where we can make some money. That meant that during the year we completely went out of mass market. To acquire mass markets you have to be a specialist and we are not.
When you came to this meeting you would have seen downstairs on the Winora stand the wonderful Haibike bicycles. That's part of our business. We are number one in the ebikes. That's a success story that we started 10 years ago and that makes Accell Group what it is.
Last year we had growth of more than 10%. For the first six months (of 2016) we were almost up to 10% and not only the turnover but financial results as well.
BT: Did you have any idea 10 years ago when you started pioneering ebikes just how big it would be today?
RT: No! Back then the product was expensive. It remains expensive due to the fact that innovation is so important. We always need to have the newest battery, the newest motor, the best display, connectivity and that means you always have expensive parts.
Nobody's interested in the bicycles of 10 years ago that we could build now for half the price.
We had success with the product from the beginning. However in the first year maybe we were 10,000 pieces (bicycles). But wow at that time, 10,000 pieces, ebikes! That was a surprise. At 2,000 euros (A$2,900) each, wow that was something.
Then when analysts asked me, 'What do you see for the future?' My answer in the first years was always the same, 'I think it will be around 5% of the bicycles that we sell into the market.' But now we are on 25% - by volume!
I'm speaking about the Netherlands and Germany. That means almost that one out of every four or five new bicycles, one of them is electric, that includes children's bikes as well. It's really much, much better than we ever thought.
If you had asked me 10 years ago what I thought about mountain bikes with a motor I would have said, 'Nobody should do that!' But now we're the market leader in Europe with this kind of product and we sell it worldwide.
BT: You might be aware that Pon, Trek, Giant, Specialized and others have all set up Australian subsidiaries to manage their local distribution and marketing. Now that more of your brands are being sold in Australia, have you considered doing this yourself?
RT: Yes. At this moment it's still in discussion. It's an export country. That means that the activities we do there are handled by the brands themselves. Haibike, Ghost, Lapierre, those are the main brands and a little bit Koga but the quantity together is too small to set up our own organisation and they all have good contacts. But it is on our list to set up more activities in Asia.
BT: You've been in contact with several organisations to discuss the possibility?
RT: To discuss cooperation. If we want to set it up, we want to do it of course with people that have experience in the market. That can be a private person who says, 'Okay, I will be the motor.' It can be a company where we say, 'Ok, we'll make a joint venture.' We've had several of those discussions and honestly said, Australia for us is far away. It is a market that's absolutely suitable for our products but compared to other countries, is rather small.
We have as well a lot of brands with license agreements. Two of our important brands in the group are Raleigh and Diamondback. Both are on the market in Australia with Sheppard Cycles, but it's a license operation. They use our brand but they decide in discussion with Moreno (Asian based manager for Accell) what type of product they bring into the market and to which customers they go and that's a successful operation.
BT: As you know, Scott has purchased Sheppard Cycles and in Europe, Scott is a competitor of yours. So do you think you'll keep that arrangement following the acquisition of Sheppard by Scott?
RT: I think so. It's very important for them and of course we know Sheppard very, very well and we have a long relationship with them, coming from the Raleigh period.
We still do activities for them in our Asian trading office where we have contact with suppliers in mainland China and Taiwan.
I personally had a meeting with the CEO of Scott, because you are right, in Europe we are competitors. We had a good discussion and I think we are both happy with the situation.
The Scott organisation is happy with cooperation with Sheppard and we and Sheppard are happy with the position of Raleigh and Diamondback. We told each other we are in for a long term relationship.
BT: Many other global brands are going consumer direct, perhaps most notably Trek. What is your position relating to this?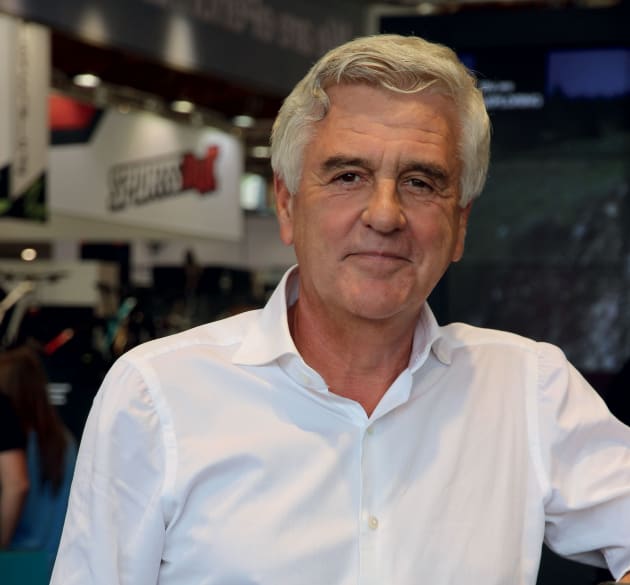 RT: We're a listed company and of course it's a question asked by analysts and by  shareholders.
Yes, we do what Trek did. We started already one year before, only we did not announce it as clearly as Trek did. We believe that consumers are very interested in what we call the 'click and collect' situation. It means we have the best of two worlds. The consumer looks at the internet, goes to the shop for a test ride and he can order the bicycle on the internet and we supply through the dealer.
We are able to check with the dealer if the bicycle is in stock with the dealer, or we have to send it. Like Trek, if we send it, we have another margin than when the bicycle is in stock in the shop.
The bicycle dealer is happy with it – not all of them. There are always people that think they can turn back the clock 10 years. We don't think so.
We want to cooperate. Dealers have a function in the chain. But the world around the chain has changed.
It is our strategy to give the opportunity to the consumer to decide where and how to buy the bicycle. If in the future if the consumer doesn't want to pick it up at the bicycle dealer and he wanted to get it at home, then he gets it at home. Maybe we could put in a voucher for a free first time service after 1,000 kms at the dealer. We always try to connect him to the dealer because we can ship the bicycle to his home address, but we cannot repair it at home.
The advantage of online sales is that you can play with your online catalogue. You can put models on, you can take models off, you can have your traffic lights, green for available, orange available within one week, red for not available.
With the old paper catalogue and later on we went from the paper catalogue to the DVD, but it was still fixed. The consumer says he wants that bicycle and we say, 'Sorry! Out of stock.' 'Oh well, I'll have this bicycle,' and again we say, 'Sorry! Out of stock.' Of course those tools are available and that's the advantage of online.
BT: Would it be fair to say that you're a great believer in European bicycle manufacture?
RT: No. That's absolutely wrong. There are initiatives in general to manufacture nearby your markets.
The problem in bicycles is the supply chain. We have a very long supply chain and next to that we have a very unreliable supply chain. When we solve the reliability, then we can do much more.
If we know, if we are sure the bicycles will come in when we need them, then it is possible to plan to have better marketing campaigns. By manufacturing in Europe, if the only situation is that we reduce the delivery time from 20 weeks to eight weeks… eight weeks is still far too long because the consumer wants to have the bicycle in 24 hours.
When you look at our stand downstairs (at Eurobike) we have so many bicycles! I can tell you there is not one dealer not in Germany, not in UK, not in France that has all the models available and all bikes here are only in one size, so we have to improve the supply chain.
BT: Bikes are rapidly changing due to connectivity, big data and so on. What's your view on this?
RT: I think that when we talk about connectivity, when we talk about the internet and things, I think in five or 10 years everything will be connected.
We already have a bicycle here, Winora, a Dutch brand that is connected to the internet. Most of them in a very traditional way with a sim card But there are much more efficient systems and there will be much more efficient systems.
There are other networks. We now have the 4G network that we use with phones. It's rather fast but extremely expensive, that's with sim card. The old 1G, 2G networks that are still there can be used much more efficiently, so one way or the other the bicycle is connected.
Now we can use it for… I cannot say gadgets because antitheft is not a gadget, it is important. The bicycle is connected to internet, your iPhone is connected to internet, it means if  something happens to your bicycle, it falls down, you get a message to your phone. If it goes at a speed of 50kph or more it means it's in a car and you'll get a message. You'll get messages, 'please do maintenance', 'please check your tyre pressure', a lot of things. That's step one, communication between the bicycle with yourself.
Then we talk about cars that are driving automatically there as well the internet knows where they are. You can imagine if we know where every bicycle is, if we know where every car is, if we know where every traffic light is and if it's red or if it's green. You can imagine what we can do.
We can warn the cars, 'A bicycle is coming', we can warn the bicycle rider, 'A car is coming from behind', so with all that connectivity we can improve more. It's connectivity and handling of big data.
In Accell Group we have a taskforce of three people who fully follow this kind of development. We know everything and step by step we get them into commercial products. Here downstairs at Haibike we show the Cobi system. It's one supplier but there are many suppliers, software developers,  small companies, telecom related, IT related that come with proposals to us. We look at them and then we do some start-ups.
BT: You've been in charge of the Accell Group for almost 18 years. What do you see 10 years, 18 years into the future?
RT: Many things will happen around us, but the big issue in the future is mobility in cities.
Take an important city such as London. They know already that in 10 years' time there's no way they can handle the transportation of people by public transport. There's no way that they can build additional trains, buses fast enough to solve that problem.
So first of all we have to take people away from transport, take them somewhere else or work from home, or whatever it is avoiding those movements.
I'm absolutely sure that next to other means of transport, bicycles will play a role, because bicycles are the most flexible. Walking and bicycles are the same. You go yourself by foot or by bicycle from A to B. With a bus or train or whatever, you end up near where you have to be, but it didn't bring you all the way, so bicycles will play a role.
Will it be a bicycle that you own or will it be a bicycle that you rent? All those kinds of pictures we try to paint for the future.
Next to that, our health. We will be more healthy in the future. Maybe we will have a longer life. The bicycle is very healthy. Walking is okay, but limited by distance. Swimming, you need a swimming pool. With the flexibility of a bicycle you can go on holidays, you can go into the mountains, you can do whatever you want. So I'm very optimistic about the use of a bicycle.
A bicycle only has two wheels, a frame, a handlebar, a saddle... it's a very efficient solution.