Welcome to our monthly call to bicycle shops around Australia where we start by simply asking, 'How's Business?'
With Easter fast approaching, this month's follow up question was, 'What will you do over Easter, close or trade?' 
Craig Saunders of River City Cycles in the Brisbane suburb of Yeronga, Qld said:
November was very quiet, almost to the point of, 'why are we in business?' There was a lot of money going out but not much coming in. But since then December, January and February have all been pretty good with trading, so things are looking up.
But it goes in waves. You might sell a few road bikes, then a few triathlon bikes, then a few kids bikes. There's no pattern to it at all. But at the moment, it's fairly good.
Last week we had a lot of rain, so that affected the number of people coming into the shop, but the people who did come, spent quite a bit of money. But this week (with the flooding aftermath of Cyclone Debbie) there's only been one customer in since we opened at half past eight and it's now half past 12. So it's pretty average, but businesses are closing today and the train will be going out because of flash flooding and everyone's trying to stay off the roads today.
(Easter?) I'll close over Easter. A few years ago I opened over Easter and it was really good trading but then the following year it was very average.
There's not a lot of opportunities to take four days off in a row, especially for myself as the owner. So we have a family holiday and go up to the beach for four days, so it should be really good.
Troy, my number one mechanic he's still over in Alaska right now. He gets back on Monday so I need a bit of a break. With only myself here it's been pretty busy just trying to keep up with the mechanical work. I've had a few late nights in here.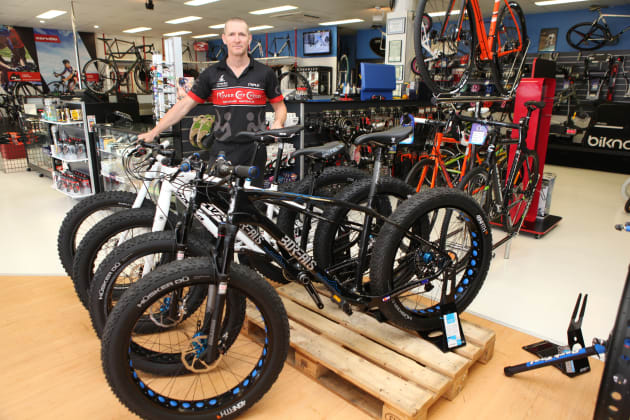 David Cannings of Bike Trax in the Hunter Valley NSW town of Cessnock said:
Steady, I would say, steady. Workshop's the steadiest part. Sales, it ebbs and flows. We do Cannondale, GT, Jamis and Mongoose and probably soon to be Rocky Mountain.
It's mountain bike country and BMX country, they'd be our mainstays.
I believe we might be the oldest shop in Australia. I know there's a shop in Adelaide that was 1918, when I was looking around. But I've been told in town by real estate agents and other people that we're looking at 1910-1913. I can't verify that as yet. But I had a lady who said she came up here to live in 1934. She came and had a look around and said, 'Oh yes, this used to be the verandah and this was… because it's all wooden walls and wooden floor. It's an old shop.
It was called Coalfields Cycles because it's coal mining country up here. But it's been Bike Trax for quite a while. I did work here for a short period in 2002 and it was Bike Trax then.
(Easter?) Yes I close. Business is not very solid. People tend to think you're not open because lots of other shops aren't. Or people go away.
It seems to be the last great camping weekend of the year. It just doesn't lend itself to being open.
I'll probably go down to Canberra actually. There's a painting exhibition on down there and I'd like to check that out. I was only there for two days at Christmas, so there's a lot more to see. 
Russell Eckersley of Woodend Cycles in the Victorian country town of Woodend said:
Business is a bit slow. I'm not sure why. I've been in business 15 years. Online shopping is pretty strong.
I've downsized my business since I talked to you last time, to a smaller shop with lower overheads and the workshop goes well, but new bike sales seem to be very slow.
Woodend is a country town about an hour from Melbourne. 80% of the (working) population commute to Melbourne for work. So a lot of people probably have their own shops in Melbourne that they use.
We've got a mountain bike park in town, which is good for business. We're predominantly a mountain bike shop even though I do a bit of road stuff too.
(Easter?) I'm going to trade over Easter as normal. I close Sundays and Mondays in general. I work as a mountain bike guide on Sundays, usually.
I've got my fingers in a few pies. It's my own business. I also work for six different schools as a guide. Mainly over winter, when business isn't going so well, I go out and do that stuff. Which is surprising because the weather's not good here, but that's when it fits into the school program.
Sundays are not with schools, but private customers.
Business has been up and down before in the 15 years I've been here, so I'm still pretty optimistic. 
Nick Kontos who has run ACT Bike Superstore in Mitchell, ACT for forty years and counting said:
It always could be better. It's steady. The workshop has picked up a fair bit at the moment, I must admit. When it comes to bikes, there's a little bit more sales of dual suspension MTB. That's going reasonably well. 
Obviously family bikes for us work exceptionally well. They keep moving. But as much traffic is not coming to the door. That's the issue. The people who come in, they're definitely committing themselves and choosing a wide range of stuff. Anything from home trainers, like yesterday to clothing. Some people are starting to look at winter clothing.
The bread and butter stuff is moving along ok, but there's extremes. You can have one or two days exceptionally strong, then three or four days backpedalling. And it's been like that for a while.
Even back in October, November, December when you think, 'It's going to get better.' But nope, still the same. It hasn't picked up that much at all this entire financial year.
But still I think, maybe it will happen!
We're still selling a fair bit of left over Scott bikes. Cannondale bikes are exceptionally strong for us, especially when it comes to road bikes. Flat bar road bikes are relatively strong, but not as strong as they used to be. The numbers we sold four, five years ago… since then it has definitely declined.
Family bikes are still relatively strong.
(Easter?) All our trading years we've always done the same thing. We're open seven days a week except public holidays. We'll be closed for four days over Easter. We've always done that.