Welcome to our monthly chat with six different bicycle store owners across Australia, where we start by simply asking, 'How's Business?'
As always, we also ask a follow up question. This month's question was a direct result of feedback from last week's Dealer Survey.
When we asked dealers what the biggest challenges facing their business today, the top answers they gave related to internet mail order discounting and general pressure on margins.
To explore this further, this month we asked, "What proportion of the bikes that you sell this year will be at full retail price?"
As you will see, we could hardly have seen a wider variety of answers! 
Steven Manook of Foothills Cycles in the outer Perth suburb of Kelmscott, WA said:
It's been good. It's taken a year after my first year was quite difficult. It has been a long winter, but we've had a lot of repairs and maintenance, a consistent workshop. Just building our name in our little location out in Kelmscott.
The shop was previously Jet Cycles. It's the same location, I just rebranded in terms of new frontage, new name and cleaned up the store inside and out. I had worked for Jet Cycles for eight years here so I knew the customers and they knew me as the person behind the till, in the workshop.
It was just a natural progression really.
70% of our bikes are family orientated. 20% is MTB and road bike. We were a big supporter of the WA MTB Enduro. We were always at the races, promoting our brand. And the other 10% is BMX race bikes and other things.
Our main brand is Giant bikes but we're also the WA distributor for Transition bikes which is in mountain bikes. In the BMX race models, Chase Bikes, SE Racing and also Gekko Bikes, a WA brand.
BMX race can be a niche. If you're not close to a club you don't even hear about them. I've had benefit from Byford BMX, our local club. I've done a lot of support with them. Four years ago they were pretty much on the verge of collapsing, but they got a good Board and a good President and got back members and they've come a long way. That's a good support for me in that sector.
(Proportion of bikes at full retail?)
10%?! I'd say 20%, one in five. There are savvy customers these days. People are willing to drive to get the better price.
For regular customers I do provide a discount program and they do get discounted bikes, but for the walk in, they've been on Bike Exchange or they say 'Bid.tv is doing them for this price, can you get close to that?'
I do find the competition from bigger bike shops and discounting on price… you do try to be competitive.
The new season bikes are released and people don't even have the faith in their product to sell a high end bike at full retail. They're already discounting $1,000 off a $5,000 bike.
You're like, 'Where's the money in this anymore? The bike's just been released! You've got to place some value in your product.'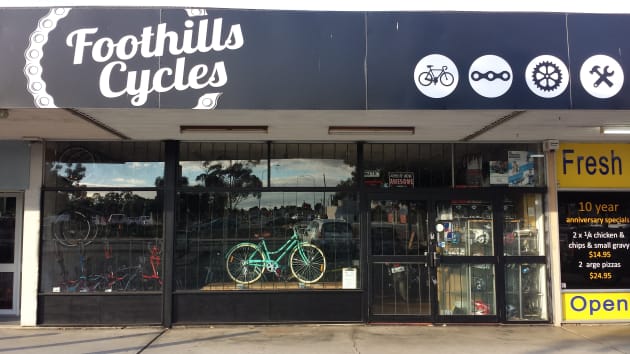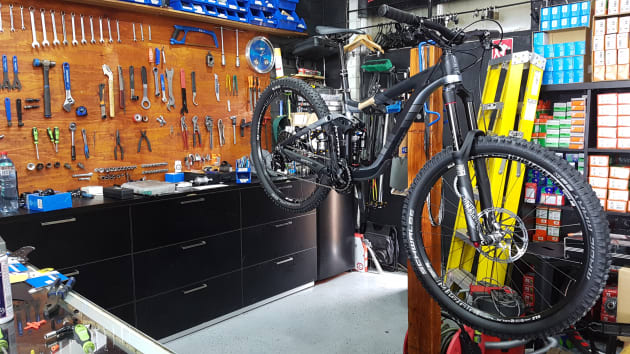 Huw Vellacott of Commuter Cycles in the inner northern Melbourne suburb of Brunswick said:
Business is excellent. September has been very wet and compared to last year's September we had a relatively poor month, trading wise. July and August were solid, but then the weather hurt September.
We shut for a week at the end of June and had a shop and workshop refit, which was pretty major works. It was the first time since opening the doors that we'd ever shut.
So that was a big investment in the next ten years. We've been here for eight years. It was a bit like going to the dentist. The shop was ready for a revamp.
We had a specific objective with a bunch of others that came off it. The imperative was to have three equally fantastic work stations. The original layout and design was based upon two work stations, to which a third and an inspection stand had been added. But the third workstation was very much of an afterthought and so didn't work well with the layout and flow.
We rebuilt the workshop from a blank canvas and designed our perfect workstation, within the constraints we work with, and multiplied it by three. So now we have three identical work stations with under bench storage, a vice each, the same tools in each and what have you.
We have all three running pretty much all the time, plus a dedicated inspection stand.
We also split our retail counter. We now have two counters.
The front entryway was also revamped. It was a big expensive week.
The next phase will be to revisit our retail space in terms of display units.
(Proportion of bikes at full retail?)
My instant response would be 100% but there are some exceptions, so I would say 95%.
Our approach with all our pricing is to price things at what we consider a fair price that enables us to sustainably exist and provide the service and offering that we pride ourselves on.
Then we say, 'That is the price.' And because of the nature of the bicycles that we sell, 95% of the time that's where the conversation ends and people are happy with that. They're seeing the value in what we're providing.
The flipside to that is the customers perceive that there's no-one else out there offering the same thing… and a discount. The nature of the bicycles we sell (commuters and non-mainstream brands etc) and what we offer as a shop is relatively unique.
It would be harder to maintain that approach if there was someone down the road doing the same thing and knocking 10% off the top. 
Dave Marshall of Graham Seers Cyclery in the north coast NSW city of Port Macquarie said:
Business in general is pretty good this year. It was a bit quieter last year, but this year each month has been better than the same month last year.
I'm not exactly sure why, but because we've had price increases on bikes over the past few years I think people are more familiar with the bike pricing now.
We've been having good weather this year too.
The shop's been here for about 28 years. Graham Seers hasn't been involved for about 12 or 13 years now. I'm the third owner. I've owned it for a tad over seven years now.
There are the same number of shops in town (four). Another shop I recon would hurt massively in Port Macquarie. I wouldn't recommend it! It would be painful.
We're family orientated and mountain biking. Mountain biking in Port Macquarie is pretty big. Kid's and recreational bikes are very strong.
Giant is a very strong brand for us. We have a few second tier brands: GT, Mongoose and Avanti, and Forgotten in the BMX range.
(Proportion of bikes at full retail?)
Mainly my recreational range is at full retail. I try not to discount too much, if at all. If I have to I'll throw some stuff in to get the sale over the line. But for performance stuff customers want it to be discounted heavily. I put that down to Bike Exchange.
People go on Bike Exchange and see discounted prices then come in here and want the same pricing.
It depends upon what the discount is. I won't try to match it. I'll try to stay maybe $100 to $200 above what they're discounting to, because we fit the bike to the customer, service the bike, warrant the bike and that sort of thing.
Plus the customer would have to drive to the other location to pick up that bike and if it's not right they'd have to go back there again.
I try to upsell to make me some more money. 
Wez Turner from, Bicycle Centre Townsville in far north Queensland said:
Good. No complaints here. We're a small family run bike shop, focused mainly on the family customer.
Our main brand is GT and we also sell Cannondale. We're Townsville's main bike shop for skate park BMX bikes of which we sell Colony, Academy, GT and Wethepeople.
Our number one focus is repairs, then parts, then new bike sales whereas a lot of other bike shops here focus in the reverse order.
But I literally have the biggest range of parts and accessories in Townsville. I probably have more P&A than every other bike shop in Townsville put together.
I get one to three bike shops ring me per day and then pop over to my bike shop to buy stuff that they don't have in stock, because they know that I will have it.
That's fine! I deal with them all the time. At last count a couple of months ago I think there were nine or 10 shops in town, not including the chain stores.
It is competitive but they don't seem to bother us too much.
I've been working in this store for 17 years and I've owned it for 12 years.
I think we're going to see a surge of smaller wholesalers go under because they can't compete with the big boys.
(Proportion of bikes at full retail?)
I would say 80%. I've completely changed my focus on what I do and don't discount from July 2016 onwards. I'm giving it a 12 month trial and so far it has worked in my favour.
For the past 10 years, ever since the internet has got stronger, I had a swing tag on each bike that had the full recommended retail and then it had, 'Our Price'.
I was putting my best foot forward so when people came into the shop they would say, 'That's the retail… Oh, these guys are actually doing 15% off retail!'
But what I'm doing this year from 1st July I'm just putting the full retail price on the bike. If the customer asks for a better deal, I'm generally throwing in a $60 helmet or a $60 light set and it's actually working better than having discounted prices on the bikes.
We have tried this in the past for a couple of months, but then gone back to discounting because people are brainwashed to want discount nowadays.
But I've upped the service a little bit more, going that little bit extra, with full retail price and just throwing in a $60 item that might only cost me $25.
Since July 1, believe it or not, I actually have not discounted the full retail off one of my bikes. (apart from throwing in P&A) 
Danny O'Shea of South Coast Cycles in the southern Adelaide suburb of Christies Beach, SA, which was recently in the headlines for record storms and a statewide blackout said:
At the moment it's starting to pick up, but we had a long, slow winter. During the storms it was quite bad. Not much going on. It was pretty hard to do any riding with the rain and wind so people tended to stay home and not do anything.
The blackout happened here about 4pm so I just closed up and went home early that day.
It was all back on the next morning, but still rainy and windy.
We do about 50% BMX and the rest is mountain, hybrid, a couple of road. We stock Norco, Mongoose and a few Apollo bikes.
In the BMX I've got low end Mongoose bikes, Forgotten, Wethepeople, United and a few Subrosa which are distributed through Triple Six.
I ride a lot of BMX, so we're a bit stronger there at the moment.
(Proportion of bikes at full retail?)
I would say 70% at full retail. Usually it's slightly higher end mountain bikes and things like that.
Entry level bikes, people don't mind paying full retail too much.
On BMX it's normally parents asking for discount, but not as much as mountain bikes. 
George Bunt, of the newly created Box of Bikes store on the site of the former On The Rivet store in Phillip, ACT who has a second Box of Bikes at Majura Park ACT said:
September was actually really good. We've only been in business for a year, but it was our third biggest month. There was quite a big push in all styles of bikes.
We've had fairly slow mountain bike sales due to the terrible weather we've been having. A lot of the trails are actually closed. Majura Pines, Stromlo… We had the Kowalski Classic postponed until this weekend. That's an event that has close to 1,000 riders. We're a sponsor and the registrations were going to be in the store in September, but now that's happening this Friday and Saturday. So we'll have 1,000 odd people come through the doors in a seven or eight hour period.
(Proportion of bikes at full retail?)
It's a tough question because we've got a rewards program for customers, all managed by our website and point of sale. 5% of their spend goes as credit. If you factor that in, every bike goes out with some sort of a reward.
About 70% would go out and full ticket rrp. (just the rewards program and no further discount). That's because we predominantly deal with bikes under $3,500. We're very much about being a bike shop for everyday people.
They just want to know that it is assembled correctly and they can take it home today, so we have a lot of bikes on the floor and we make it simple and easy for them.
We sell Trek, Electra and Apollo. They're our three major brands and Apollo have their own internal brands, Radius and Neo that we do as well.